CLICK HERE to go to IronDrake Studios on Facebook! |
IronDrake Studios — LiveJournal
Jul. 9th, 2019 07:41 am Happy birthday to me

Probably one of the worst years of my life. The saddest birthday I can remember as I go to work, with no plans or other anything else.  There will be no celebrating or other fun. Can't go to Gettysburg bike week this year. I had to shut down Irondrake studios as I prepare to move out. 
Just want this month to be over.

Leave a comment
Apr. 22nd, 2019 06:36 am Now what?

So stressed anymore. I have no client projects, and no personal projects...and I'm bored.  I'm never bored, until now.  I pride myself on my ability to deconstruct an idea and create something. I just have no ideas. Anybody got an idea?

Leave a comment
Dec. 14th, 2018 02:17 pm Good news Everyone!

I found the SD card with the video footage to complete the motorcycle LED tutorial.
When I get back from vacation I will get that out asap. Till then, I will be dreamily intoxicated with rum drinks and margaritas.
Leave a comment
Nov. 30th, 2018 12:26 pm Overdue...again

I haven't had too many projects this year. Work has been staggering with new job.  I got a few belts done, and started branching out some leather and etching work.  Try to get more done there.
Also want to get a YouTube show or 2 together. One of just my stuff and probably one for the biker lifestyle.
Maybe a return to "Beer, Sex & Ironheads", but I'll probably have to change the name since I still dont have another ironhead...go figure
Looking to get a bigger bike this coming year, may go with either a Honda Stateline, or VTX1800
We shall see...
Leave a comment
Jun. 13th, 2018 09:36 am Casting Championship belt plates
Here I show how to make IronDrake Studio style championship belt plates. These are primarily Urethane resin, but do have a real metal finish and embedded screw posts on the back
Leave a comment
Oct. 18th, 2016 11:12 pm Electro-lytic-tronic Dance Dance Southern Champion

This write up is for a Championship belt I produced just recently for a company in Mississippi: The Southern Heavyweight Championship

They specifically requested working one of the other plate designs into this, so I knew off the bat, the main plate would have to support a 6 inch plate round center plate. this with oval side plates with liberty bell features on an electric blue strap



So. thats what I started with. did my own hand at trying vector graphics and shot the file over to my partner who corrected my errors ( she sighs a lot. I think I give her headaches) and got me a very nice vinyl mask




For the base of this I chose 16guage steel since they didn't want it chromed, and this would be easy to clean and keep shiny
So after this it was applied and set into the bath for Electrolytic Etching.

Electrolytic Etching; is when you use a resist, such as the vinyl design here(could be paint as well) and apply that to a piece of metal. Then connect to the positive end of a Battery charger (12Volt, 10Amp) to that piece and then submerged into a solution of salt water (non iodized salt and water). The negative end is is attached to a scrap piece of metal. This promotes the exposed metal from your design to "rust" off and etch the design into the plate. Very cheaply, and enviromentally friendly. There is a very unfriendly way, but thats for another post

Check out the video. You can see the chemical reaction



The reaction causes the water to get scummy, but it doesn't interfere with the process.

Then you end up with plates like this:



Pretty swank. Cut them out with a jigsaw, then I got Createx Irridescent Electric Blue for the leather strap. Put some measurements and tooling on the leather, and finished it off with silver snaps, and purple suede backing





Hope you had as much fun reading this as I did making this. Onto the next project
Current Location: IronDrake Studios
Current Mood:
sleepy
Current Music: Turn the page - Metallica

Leave a comment
Jul. 21st, 2016 09:20 am A new chapter: Duelo Del Siglo

Thanks to a friend, whom I had the pleasure of working with, I have been asked to commission awards for the Inaguaral Duelo Del Siglo Boxing event in Pittsburgh. This will feature a Pittsburgh Boxing team Versus a Cuban Boxing team for an international event.

Having primarily worked in Pro Wrestling, I wasn't worried when it comes to awards
The main award is going to be a Trophy Cup, not unlike the Stanley Cup, in that it will be awarded to the winners in each yearly event.

This is the cup


Lots of engraving to do along with the base, and the other parts of this commission. Less than a week to complete

My partner does great work. I was very thankful for all the help I got as I ended up breaking my hand. We recieved all the design elements and she mapped them out into her program and vinyl cutter. we debated the different ways we would do this piece, luckily we had the lid to experiment on




One solid afternoon got us a great result. We then proceeded to map out and apply the rest to the trophy cup




The designs came out very well and my wife helped build and assemble the base out of a very dense hardwood called Lacewood. It was then available for the event weight in at Rileys Pour House in Carnegie (try the rueben, it's extraordinary)




The second half of this was getting 2 championship belts made. Originally they had an idea for plaques, but belts were more fitting and something I can really do. One to be presented to Congressman Mike Doyle, the other belt for the People of Cuba presented to the ambassador for Cuba

This started the same way with vinyl masks cut and applied to metal sheets. Originally they asked about getting modified versions of my TV title -



Instead we were able to come up with a better technique for a custom job: Electrolytic etching.




We decided to take the star out of the center and add it back in after the etching




This was all the easy part. Doing the leather and mounting with one hand was all me, and it was very tedious




Belts were done and ready for the event just in time. I recieved many thanks for the work, design, and timeliness. Every bit of that goes to my team and Championship Geek who helped make this possible and raise the profile of IronDrake Studios and the work we want to provide


Current Location: IronDrake Studios
Current Mood:
hopeful

Leave a comment
Jan. 23rd, 2016 09:40 pm Fire good!

I have always been interested in metal-work and smithing. I seen this video on Youtube to make a metal-melting foundry and was inspired to make my own.



I just went ahead and made mine much bigger then the one shown.

I started with a 40 qt stockpot, and after adding all the refractory sand, it weights in at about 140lbs




Because I made it so big, I couldn't find a regular size bucket to make the heat shield lid. I had to make a form out of cardboard, and use part of my crucible, a thick steel oxygen cylinder, for the hole. Adding in big U clamps for handles




Then I welded bolts onto the crucible so it would be easier to pick up. After I fire this up a few times the metal sleeve should fall out.




So now I'm all ready. I have a shop-vac I will be using for my air source. I have a supply of alumin and brass I've been saving up.
I have a steel muffin pan for making my ingots as well as this special cast iron pan which is gonna make some sweet casts as well

Current Mood:
hopeful

Leave a comment
May. 13th, 2015 09:15 pm you're going to need a bigger belt!

Ideas and help for making championship belt straps



Leave a comment
Apr. 2nd, 2014 07:21 am The riddle of steel

Too long since I've posted a build log, and I really need to start again. I will keep updating this entry as I progress

This sword will be done in a Norse/Celtic style

So we start with a 4ft long 1/4 inch hot rolled steel bar. I used a metal marking soapstone to draw my lines, for cutting out the handle and where the grading for the edges will(should) stop.




I made the handle currently 16 inches. I may cut this down a bit, but this gives me the full tang(length) of a handle to support the blade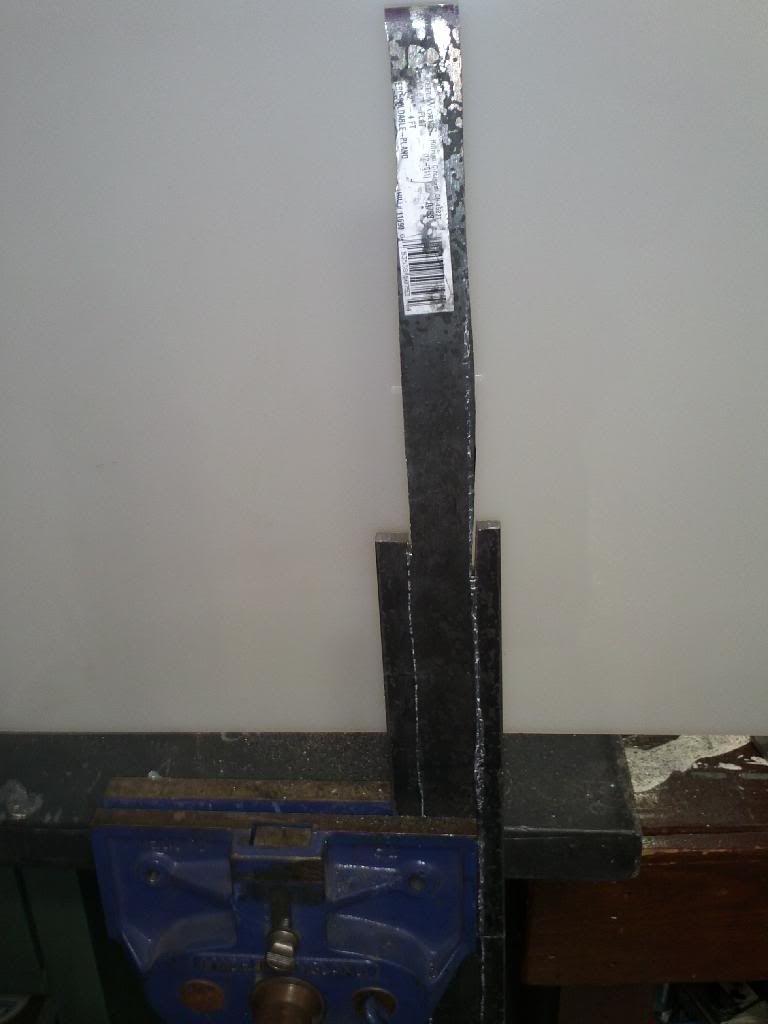 marked out the tip of the blade. cut and grind to shape




So, so far it's coming into shape. 75% of the blade is completed, and this is the easiest part of the work.





Still to do is design the hiltguard, make and shape the handle, and make a pommel. Still not sure if I will wrap the handle in leather or if I'll make a leather scabbard for it
Leave a comment
Feb. 1st, 2014 09:25 pm Chaos and Order

Like the 8 pointed Star of Chaos, my studio has become a mess with all the projects running across my workbenches. The carpet in this room was already 10 yrs old and I could no longer vacuum all the particles and plastic bits out. suffice to say, it was very depressing. I made plans to turn the studio around with some downtime, to make improvements that would help my flow. I had some leftover laminate wood flooring and some scrap from work to redo the floor. This will keep the original hardwood floor looking nice, while leaving me to beat up this floor, which will be much easier to keep clean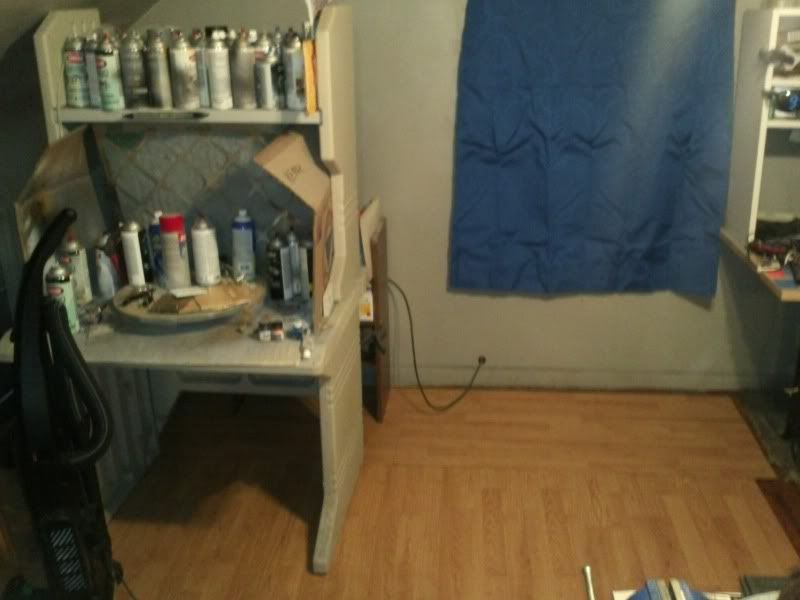 I'm also going to use this time to redo my spray booth for bigger projects, better ventilation and lighting. I'll add the photos of the blue flooring I got once I get there. this involves alot of moving stuff around, and I still have one more small piece of carpet to remove once I move my Bookshelf.

I want to be done with this soon so I can get back to my projects, which I really miss, but this needs to happen first, and be done right, or I'll just be miserable. I want a great place to work here...until I make enough doing this to move into a better studio.

-IronDrake
Leave a comment
Jul. 28th, 2013 12:04 pm In Piper's Pit

Finished my Tribute U.S. title and was able to get a pic, autograph and certificate of authenticity. Also great to get a pic with Piper in my Kilt, as I had wrestled the Indy circuit as Highlander Mike MacGowan, another Scot with attitude.



Also great remarks about the belt from former WCW announcer/sports broadcaster Mark Madden


Leave a comment
Jun. 27th, 2013 12:45 pm Tool time

Hello all, more work but first a little write-up about my recent leather work

Got a nice shoulder of leather, soft surface,but nice stiff leather. Pounded out some details, got a very nice strap out of this.
Still have to tool the edge and prep it for lacing, then I'm going to dye it red for the TV title I'm going to mount on it.

later,
-IronDrakeLeave a comment
Jun. 8th, 2013 05:51 pm Welcome

Hello,Welcome to the IronDrake Studios Blog page.

Here you will find write-ups on projects, pics and whatever crazy things we do here.
Painting, airbrushing, fabricating, molding, casting, welding, electronics

Current Location: IronDrake Studios


Leave a comment
May. 8th, 2013 06:41 am Hard Hitting 2

Knux version 2. Here you can see the new master as it is made into a 2-part mold for a bigger, more substantial knux.




I used clearish resin and added some yellow, and it came out translucent. I really like this look and will be offering this in many other colors as well. Great for LanternCorp cosplay, can also be lit with LED's as well


Here you can see the yellow and a "brass" knux together. you can see the pour spouts that haven't been cut off yet.


Msg for pricing

-IronDrake
Current Location: IronDrake Studios
Current Mood:
sleepy

Leave a comment
Apr. 27th, 2013 12:01 pm just something on the side
Glad to finally be done with these plate sets. I really like how they turned out, and how many options are available.


Current Mood: accomplished


2 comments - Leave a comment
Apr. 1st, 2013 07:47 am champion only valid in continental US, excludes Alaska, Hawaii and PR


This plate completes the Tribute series championship belts - the United States heavyweight championship.

before

After

This plate is based on the US title Ric Flair held, and is most prominently seen all brass with a red strap. May add some colors and diamonds to the centers of the 3 large stars.


Mold tray assembled last night, will get to mix,vacuum and pour the mold rubber later this afternoon.

-IronDrakeLeave a comment
Mar. 13th, 2013 12:58 pm upon reflection


I've been making championship belts for a long time. Even before I started training to be a pro wrestler.
There's an element to them that speaks of their art, tradition and symbolism. Never mind what some ppl have on TV now-a-days, 'Im talking about those shiny masterpieces that Champions would hold high, and everyone wanted to have that belt.

My first belts weren't very good as this was a new medium I was experimenting with. trying to capture the look was more important then most of the materials, especially when it came to cost, as I ended up never getting reimbursed for most.

Now I have the ability to match Quality with cost. A stunning Brass impregnated plastic for a cold-cast authentic metal brass finish, high-speed buffed to a near mirror finish. As close to a "real" championship as I have ever produced. 6months of work. My best achievement in all my years of belt making.
Leave a comment
Nov. 8th, 2012 09:02 am trial by design



designing and building an LED chestpiece. the best option I am thinking of is to vacuform this out of strong black plastic...however I don't have a vacuforming machine. yet.

So I will be using foam as it will allow the piece to bend with the wearer, giving strength to the weight to the LED's, wires and batteries. this all has to mount with velcro onto a shirt and be removable. I have the foam cut and LED strips, but I'm thinking of also adding a star to the top blank space.

More updates later
-IronDrake
Leave a comment